White Peony & Peony Mist - Silk Flower Diffuser Gift Set
White artificial silk peony diffuser + 10ml peony mist fragrance
This gift set includes the following,
1 x White Peony faux floral arrangement
10ml Peony Mist fragrance spray = 100 sprays
Gift box packaging
The BOTANY range includes beautifully packaged floral diffusers and accompanying fragrances for gifting and home. BOTANY Floral Diffusers are made primarily using high-quality real touch artificial florals, set in water like resin. The BOTANY brand is whimsical, playful, fresh and inspired by rich simplicity of flowers.
BOTANY Fragrances are selected and manufactured from high-quality Swiss perfumes and are intended to be sprayed directly onto the floral diffuser arrangements. The BOTANY range of products is an upmarket, beautiful alternative to room sprays, stick diffusers, or oil-burning diffusers, and are perfect gifting or homeware items.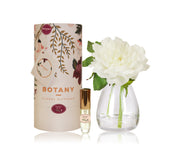 White Peony & Peony Mist - Silk Flower Diffuser Gift Set